Ixia Flowers was opened by Barbara Bellamy in 1990 after a career in modern dance that took her from coast to coast. It is evident that her art performance background has informed her design sense. Every design has a reason for being, something to tell.
Her high design floral pieces and store itself reflect a fascination with form and structure, space, and color. Pieces range from whimsical to sculptural and speak for themselves, without relying on any floral trickery or embellishments. Barbara's years of experience, knowledge, and artistic eye are evident in her work and in her work space.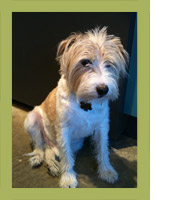 Ixia's space and atmosphere present themselves as much an art gallery as a retail venue. Designed by architect Andy Spatz, it displays Barbara's collection of modern art, found objects, vintage publications, and an imaginative marriage of antique and minimalist furniture. All this beautifully complement Barbara's flower sculptures, creations, and arrangements. It is an elegant, inspiring environment well suited to brainstorming with brides to be and to private parties...indeed the store has hosted upscale trunk shows and art openings, and can be rented for private occasions after hours.
Along with weddings, events, holiday parties, photo shoots, and personal arrangements which Barbara devotes herself to with tireless attention, she truly enjoys the challenge of thinking "outside the vase". Her innovations might be flamboyant or understated, and may include surprising vessels, unexpected shapes, or unusual flowers. Ixia, itself is a flower native to South Africa. It's delicate star shaped petals on long stems, come in shades of pink, coral, and white.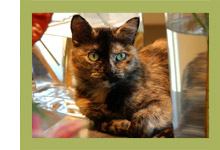 Among the collection of riotous flower vases displayed daily on risers in the store, a tortoiseshell cat presides, luxuriating in the shafts of sunlight. Jane, rescued by Barbara, is a permanent resident at Ixia where she adds quietly to the elegance of the storefront.
Another distinguished mascot is the dapper and devoted mutt Jasper who accompanies Barbara on many buying trips and deliveries. Known and loved by purveyors and customers alike, Jasper has become an indispensable part of Ixia's unusual ambiance.

Those who seek self expression through thoughtful and artful floral arrangement, as well as those desiring simply breathtaking bouquets will find Ixia excels at both. And if you're just in need of a single stem and a friendly wag of a tail...well, we have that too.